FREE SHIPPING ON ALL ORDERS
There are yearly cycles of natural events that shape the character and complexity of Apalachicola Bay and the land surrounding it. Shrimp hatch and grow in their uncountable numbers; shoals of fishes patrol the shallows and depths; diving and wading birds feed on the multitude of marine creatures; dolphin whelp their young and teach them to hunt; gentle manatees roam; eagles and ospreys soar above the waterscape; storms rage and kind breezes blow. These yearly events are the seasons of Apalachicola Bay.
Size: 9.5 in X 12.5 in, 176 pages, 390 original color images.
$75 plus tax. Signed.
Author and photographer John Spohrer presents a tapestry of the land, plants and animals of our nation's great repository of bio-diversity, Florida's Forgotten Coast. It encompasses the sprawling, longleaf pine flatwoods of the Apalachicola National Forest, the vast wetlands of Tate's Hell State Forest, the crucial floodplains of the Apalachicola National Estuarine Research Reserve, the life-abundant waters of Apalachicola Bay and St. Joseph Bay, and the wide, sandy beaches of St. George Island, St. Vincent Island, and Dog Island.
Size: 9.5 in X 12.5 in, 176 pages, 196 original color images.
$75 plus tax. Signed.
Buy the set for $100.
$100 plus tax. Both books signed.
The author's first novel is a tightly plotted mystery with engaging characters set in a "Southern landscape littered with lies, double-crosses and danger."
"When gifted artist John Spohrer turns his discerning ear for dialect and his photographer's sharp eye for detail on the collusion and collision of what Louisianians love the most – crooked politics and LSU football – the results are sure to be a bestselling blockbuster!"
--Anne Butler
Size: 5.5 in X 8.5 in, 432 pages
$15 plus tax. Signed.
An out-of-print classic, copyrighted 1996, a limited number are available new. The author imparts his fishing wisdom gathered over twenty years of fishing St. George Island, Florida. His fishing philosophies can be useful anywhere. His fishing stories will keep you smiling while you get specific information for different St. George Island locations like the surf, the east end and St. George Island State Park. Plus 10 original recipes!
Size: 5.5 in X 8.0 in, 109 pages. New, out of print.
$25 plus tax. Signed.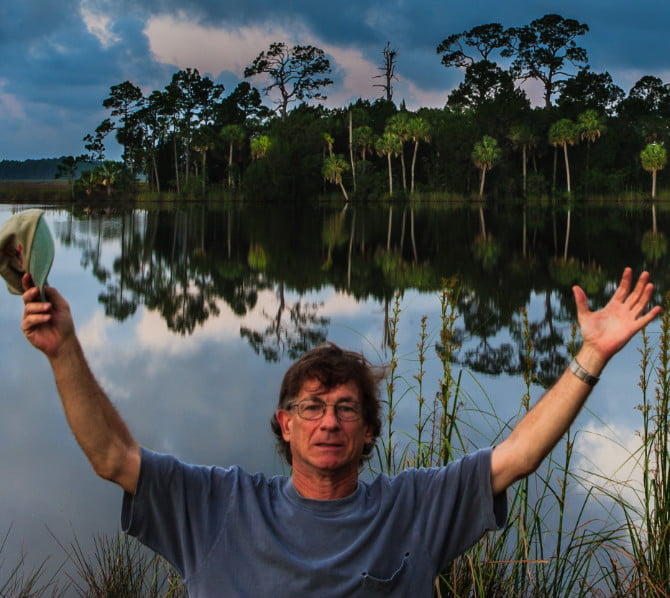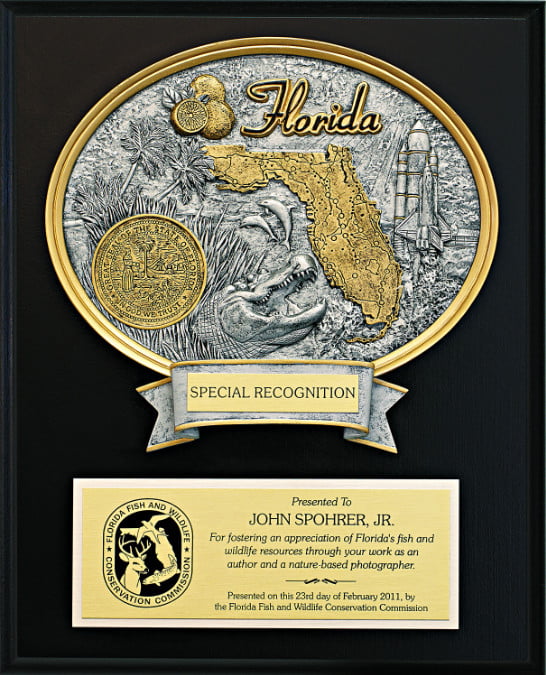 Meet John B. Spohrer, Jr.
The distinct talents of John B. Spohrer, Jr. are displayed in his four books including two incomparable collections of photographs, an intriguing mystery suspense novel and a book on fishing.
John is a graduate of Louisiana State University, class of 1969, in Journalism. He was honorably discharged from the United States Army. John had a successful career in advertising before moving to St. George Island in 1980 and beginning his work as an outdoor writer and photographer.
His awards include special recognition from the Florida Fish and Wildlife Conservation Commission for "fostering an appreciation of Florida's fish and wildlife." He has exhibited his photography in the Southeast including the Turner Center for the Arts in Valdosta, Ga.; The Tallahassee Museum, St. George Island Plantation; the History, Culture and Arts Center and On the Waterfront Gallery both in Apalachicola.
John is well-known for his entertaining and informative presentations on photography, wildlife and conservation topics.
He is married to the former Helen Diane Townsend of The Plains, Louisiana. The couple and their dogs live in Apalachicola, Florida, where he pursues his work as an outdoor conservation writer and photographer specializing in the Apalachicola Bay system and a fiction writer. He is a Florida Master Naturalist.